Here I'm returning to an issue originally covered in another post. The Christian YouTuber mytruepower2 has made the following argument for God's existence:


Proof #1: Dependability
We Think That Our Senses and Thoughts Are Dependable When They Function Properly
But … Why?
Unless There's Some Connection Between

Proper
Functioning
&
The
Truth
How Can we be Sure That Our "Proper Function" is to Understand the Truth?
God, and Only God, Provides us With a Reason, in Theory, to Think There is Such a Connection

This argument is similar to one Daniel Chaney calls the Axiomatic Argument in his book Religion Refuted: Debunking the case for God
. He says, "The axiomatic argument holds that the cosmos is intelligible to humans because (1) the cosmos was created by an intelligent god and (2) humans were equipped by that god with minds to understand, at least partially, the logical structure of the cosmos." Since I wrote this post before reading this book, it addresses only the form presented by mytruepower2, but it is essentially the same idea.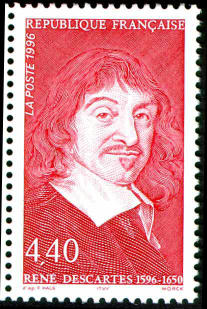 The background behind this argument comes from Rene Descartes, who, in his Meditations on First Philosophy
, sought a firm basis for knowledge by systematically doubting everything he could. He doubted even his very senses and his understanding of the world. The first unassailable piece of knowledge he found was "I think, therefore I am." In the very act of doubting, he was thinking, and this implied his own existence. Moving beyond this, he used a form of the ontological argument to argue for the existence of God. He defined God as a perfect being, stated that necessary existence was a perfection, and concluded that a perfect being must exist. Relying on the other perfections he attributed to God, he concluded that God was not a deceiver, and that he could therefore trust his senses.
The first point to make here is that Descartes did not assume that his senses and thoughts were reliable and conclude from this that God must exist. He employed an entirely separate argument to conclude that God exists. Given the existence of God, he then concluded that he could trust his senses. Based on Descartes' reasoning, we might be able to assume "If God exists, then our senses and thoughts are dependable when they are functioning properly." But affirming the consequent of this conditional does not let us infer the existence of God. It's not logically valid. Descartes himself went in the other direction. He first concluded that God exists, then he used modus ponens to conclude that our senses are dependable. Given the premise here, we could, after establishing the existence of God by some other means, conclude by modus ponens that our senses and thoughts are dependable when functioning properly. But this premise is useless in an argument for the existence of God.
The second point is that the ontological argument, in any form, is a very bad argument. Briefly, it commits the fallacy of equivocation, it makes the mistake of treating existence and/or necessary existence as a predicate, and its definition of God is meaningless or impossible. This will be covered in greater detail in a separate examination of the ontological argument.
That aside, mytruepower2 needs a different premise to argue for God's existence from the dependability of our senses and thoughts, and this is "If our senses and thoughts are dependable when functioning properly, then God exists." There are two problems here. The first is that this premise is not self-evident. Mytruepower2 seems to have in mind "Our senses and thoughts are dependable when functioning properly only if God exists," which is logically equivalent to this. But this assumes that there can be no other reason for trusting our senses and thoughts than the existence of God. Second, it is not yet established that our senses and thoughts are dependable. In fact, if we first need to know that God exists to trust our senses and thoughts, then we cannot establish what this conditional needs to conclude that God exists. At best, this just leads to circular reasoning, in which we conclude that God exists because our senses and thoughts are dependable and conclude that our senses and thoughts are dependable because God exists. But circular reasoning cannot prove the existence of God.
Let's now turn to the question of whether our thoughts and senses actually are dependable. It's not only evident to me that I am thinking. It is also evident to me that I have sensations. At this point, I will not assume that sensations have a certain cause. Although I normally assume my sensations are of external objects, I will not go that far right now. I will just stick to the phenomenological fact that I have sensations. These might be caused by sensory organs reacting to external stimuli, or they might be entirely fabricated, perhaps by the evil demon of Descartes' imagination, or perhaps by computers creating a virtual reality for me, as in the Matrix. They might even be entirely random. So far, it is established that I have senses, but it is not yet established that I can trust my senses are an accurate representation of an external reality. Mytruepower2 would have us believe that we need to assume God's existence to make this connection. But we don't. All we need to do is rule out the other possibilities.
It is not only evident to me that I have sensations. It is also evident to me that my sensations are consistent, orderly, and detailed. I routinely have sensations that are either similar to or identical to past sensations, and these normally occur in predictable ways. When I seem to sense the same thing with multiple senses, my senses normally agree on its attributes, and it's normal for me to expect sensations of one kind, such as touch, based on sensations of another kind, such as sight. Moreover, my senses are normally meticulously detailed. As I look out my window, I can focus on individual leaves and branches of the trees outside. As I look about my room, I can see many different things in exquisite detail. I can also read books, listen to music, and watch movies or television programs that are filled with orderly detail. And when I return to the same books, music, movies, or programs, I can experience the same orderly detail all over again. It is evident from the consistency, orderliness, and detail of my sensations that they are not randomly caused.
If they are not randomly caused, they are caused either by an external source or by my imagination. My dreams seem to be caused by my imagination, but my dream sensations routinely lack the consistency, orderliness and detail I'm experiencing right now. In my dreams, I can't read books, I rarely listen to any music, my perspective and understanding of things routinely shift, the unexpected often happens, experiences routinely differ from past experiences, people change into other people, the usual ways of doing things don't work, and on occasion I can do things that are impossible to me right now, such as leap without returning to the ground or put on clothes by imagining myself to be wearing them. In short, my dreams give very little hint of being caused by an external reality. I can easily rule out the possibility that my dreams are of external reality while my present experience is due solely to my imagination. This leaves three possibilities, that they are both caused by imagination, both caused by an external source, or that dreams are caused by imagination while my present sensations are caused by an external source.
If my dreams and present experience are both caused by the same source, then I'm not sure what could account for the difference between them. If they are both caused by my imagination, why should my imagination have periodic breaks in which my experience of reality becomes much less concrete? And how could my imagination possibly create such a detailed, orderly, and consistent experience? I would have to be a creative genius of incredible magnitude to be able to create my sensations through my imagination. I would not only have to create a virtual reality for myself; I would also have to write every book I read, compose all the music I listen to, and script and direct every movie and television program I watch. And if I have such an incredible imagination, why don't I use it to lead a better life than I'm currently living? Things just don't add up under the assumption that my present experience is caused entirely by my imagination. So, the possibility that my dreams and my present experience are both due solely to my imagination can be ruled out.
This leaves only two possibilities, and both agree that my present sensations are caused by an external source. So my present sensations are caused by an external source. But what is the nature of this source? Is it an external environment, a supernatural deceiver, or a virtual reality? Descartes didn't address a computer-generated virtual reality, but he did attempt to rule out a supernatural deceiver by arguing for God's existence. He reasoned that God, possessing omnibenevolence as one of his perfections, would not be a deceiver. But the existence of God is not the only way to rule out the supernatural deceiver scenario. Another way to rule it out is to deny the possibility of the supernatural. Descartes lived in a world that took the supernatural for granted and ruled out one supernatural being with another. But if there is no supernatural reality, then there is no supernatural deceiver, and Descartes' evil demon does not exist. I won't try to disprove the supernatural here, but I will point out that God is also supposed to be supernatural. If there is no supernatural, then there is no God and no evil demon, and the evil demon scenario is ruled out without appealing to the existence of God.
Putting aside that issue, this deceiver would have to be an incredible genius, capable of writing all the books I read, composing all the music I listen to, etc., as well as capable of immersing me in a flawless virtual reality. This already seems very far-fetched. Then there is the question of where all this complexity comes from. A being capable of creating all the consistent, orderly, and detailed complexity of my senses must itself be very complex. It's very unlikely that such a being just appeared and then made it his mission to provide me with the illusion of an external reality that doesn't exist except within his imagination. After all, complexity needs a credible explanation, and the most credible explanation for complexity is growth through evolutionary processes. The evil demon scenario leaves me with no credible explanation for the complexity I routinely experience.