I think every post of mine on evolution gets around to explaining why it is not a fully random process. But since the idea that evolution operates by mere chance is such a common misunderstanding, I wanted to write a post that focuses directly on that idea.

A Common Misunderstanding

Consider this creationist meme. It illustrates the common misunderstanding that evolution works merely by chance.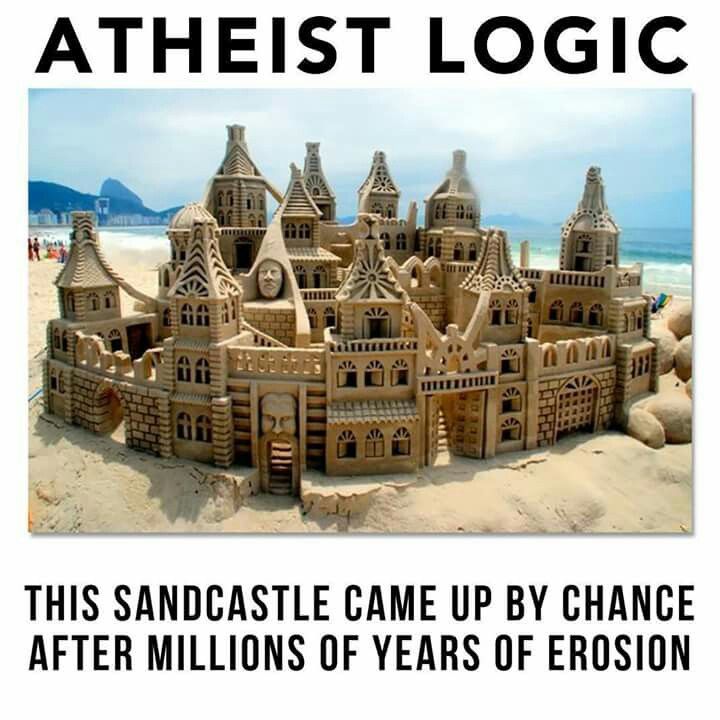 The point behind this meme is that if evolution is true, then it makes sense to expect that something like this sandcastle could be a mere product of chance and time. And since it doesn't make sense to think this, it logically follows from these two points1 that evolution is not true. This is an argument against evolution that is meant to work by pointing out the absurdity of believing it.2 But, as I mentioned, it gets things wrong. As I will explain in this post, it does not actually portray atheist logic, as it calls it, with any accuracy.

What Randomness Looks Like

I do agree that it would be absurd to think this sandcastle could simply be a product of time and random erosion. One reason for this, which I won't press further, is that water and sand is going to give you mud. For erosion to have a material to work with, let's imagine this castle is made of stone. But it's still absurd to think that something like this could randomly erode into stone. It is obviously an orderly work of art, and works of art like this do not pop up at random. This next image illustrates the sort of structure random erosion can produce in the natural world: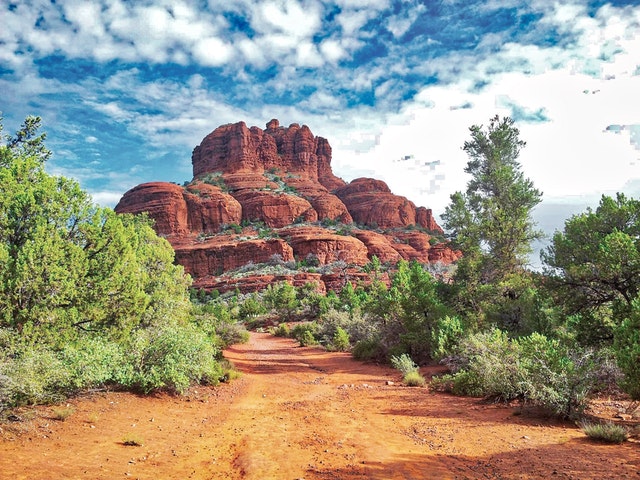 This is a beautiful picture, and some of you reading this might find it more beautiful than the picture of the sandcastle. The aesthetic merit of one over the other is not at issue here. The sandcastle shows signs of meticulous attention to orderly detail that cannot be seen in this natural formation. The sandcastle is themed as a castle and contains many regular features of a castle. These include bricks, windows, gates, towers, and various other details with more obscure names, such as battlements, a portcullis, and a keep. It even includes a couple sculptured human faces. Unlike the natural formation, it is clearly the result of a selection process.
The selection process at work here was a conscious one. Based on his vision of how it should look, the artist selected certain features for it. With these initial selections in mind, he made several more fine-tune selections about how to shape the castle.
As the creationist meme portrays evolution, it works through a series of random mutations that just happen, by sheer chance, to produce a variety of different species with various useful features. Yet we should expect such a fully random process to have much different results. We might expect it to produce grotesque monsters or lifeless blobs rather than the variety of well-functioning plants and animals that populate the earth. Since we don't see these results, the creationist concludes that something else must be going on.
Something else is going on, though it's not what the creationist thinks. It's not God carefully designing each plant and animal. It's the process of natural selection.
Random mutation is only one part of how evolution works. The other part is the process of keeping the good mutations and throwing out the bad ones.

The Parable of the Wheat and the Weeds

The Bible speaks of a similar process. In the parable of the wheat and the weeds at Matthew 13:24-30, an enemy sows weeds in a farmer's fields. We may expect the intent of the enemy is to corrupt the purity of the man's crop, so that it doesn't command the same value, and to also corrupt the purity of his future seed, so that he will plant weeds and wheat together in the future. But the man has a plan to deal with these weeds. In Matthew 13:30, he tells his servants, "Let both grow together until the harvest. At harvest time I'll tell the reapers: Gather the weeds first and tie them in bundles to burn them, but collect the wheat in my barn."
When random mutations change the DNA of an organism, natural selection works in the same way. Since bad mutations will impair the ability of an organism to survive or reproduce, organisms with bad mutations generally die off or otherwise fail to pass them on. The effect is the same as it is for the weeds that were collected together and burned. Though inconvenient for the organism who has to live with a bad mutation, this natural weeding of bad mutations keeps them from spreading far and wide.
But mutations are not all bad. Some help an organism survive longer or reproduce more. These may well be rare, given that mutations happen randomly. But when they do occur, they are much more likely to get passed on to future generations. So, besides weeding out bad mutations, natural selection also favors the spread of good mutations.
But don't let this turn of phrase lead you into thinking that natural selection is some kind of active force. Natural selection is simply something that happens, not something that is done by anything. It's natural that bad mutations will shoot themselves in the foot, and it's natural that good mutations will thrive better. When these things happen, we call it natural selection. Repeated over enough generations, the processes of random mutation and natural selection produce a variety of complex lifeforms.

Building Better Teams

To better understand how this works, consider selection for sports teams. In high school, the coach picks a team from the available students. Those who excel at high school sports get athletic scholarships to college, and college teams are formed from the best athletes from various high schools. So, college teams should be better than high school teams. This is not because the players are older. It's because members of college teams have gone through a two-tier selection process from a larger pool of candidates. The individual players on a college team might not be any more talented than they were in high school, but they are now playing on a team whose other members are better than their former teammates.
Players who excel at college sports may then get picked by professional sports teams. By picking the best from college teams, professional teams are even better than college teams. At each step of the selection process, there is a weeding of players. The result is that professional sports teams are composed of players who are much better than average. So, the average professional team should usually be able to defeat the average amateur team. This is how evolution by natural selection works. Through repeatedly weeding out bad mutations and selecting good ones, it forms a team of the best mutations it can assemble, and these work together much more effectively than a completely random selection of mutations would.
Another thing to point out is that natural selection will favor combinations of genes that work well together. To return to the sports analogy, a team that cooperates together may do better than a team of better athletes who do not cooperate well. So, natural selection will not just favor the most individually useful powers or abilities. It will also favor abilities that work well together.
Eye-hand coordination is one that comes to mind. Our eyes and hands work together to do things neither could accomplish alone. When you can see what you're doing, your hands can do more precision work than they can on their own. Likewise, hands may improve vision by blocking intense sunlight or by constructing or using tools that improve vision.
So, features that enhance other features will be favored, and eventually we get collections of features that work very well together, such as nervous systems, circulatory systems, and digestive systems. These have all evolved through the selection of features that enhance and complement other features.

Evolution is not Fully Random

Random mutation and natural selection work together as a team. Although mutation is random, natural selection is not. The result is a semi-random process that is able to get results, because it is not completely random. High schools have to work with a random distribution of students. But thanks to a multi-tiered selection process, where you go to high school doesn't have a lot to do with whether you will get to play on a professional sports team. The selection process smooths out the effect of the initial randomness and steers things toward helping the best players move up in the ranks.
With respect to the various features that life forms have evolved, these have evolved mainly because they have met a need. The randomness of mutation could affect how soon a certain feature got started, and it might affect particular details about how it works, but it wouldn't effect which features would prove useful or detrimental. With time, random mutation would produce genes for useful features, and when it did, natural selection would run with it like a football player just passed a ball.
Footnotes
It logically follows using the rule of modus tollens, which I've described in my Conditionals post. With a conditional (if-then statement) and the denial of its consequent (the then part), it lets you conclude the denial of its antecedent (the if part).
This type of argument is known in Latin as a reductio ad absurdum. My Introducing Indirect Proof post covers this idea within the context of symbolic logic.