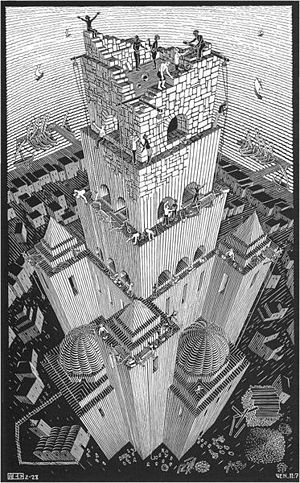 Creationists are always quick to try to debunk biological evolution, but I have never heard of creationists trying to debunk linguistic evolution. Yet the Bible clearly states that different languages came about by intelligent design, not by evolution. In the story of the Tower of Babel, God changes the languages that the workers are speaking, so that they can no longer communicate with each other. If this is why we speak different languages, and the same book of the Bible that says we were created by God says it is, then human languages were intelligently designed by God. Furthermore, the story of the Tower of Babel should be even more reliable than the Biblical story of creation, since there would have been human witnesses to it. Surely, if we can trust the Biblical story of creation, which implies the intelligent design of living organisms, we should also trust the Biblical account of the Tower of Babel, which implies the intelligent design of different languages.
The thing is, it is obvious to anyone who thinks about it that language has evolved. The very language I am writing this in is younger than the Bible itself, and I mean the full Bible, complete with the New Testament. When Christianity was in its infancy, the English language did not even exist yet. So English was not one of the languages intelligently designed by God at the Tower of Babel. Looking at the history of English, we can see its evolution laid out in the literature it has left behind. One good place to see this is in translations of the Bible. Compare recent translations of the Bible with the King James Version, and you will see that our language has changed quite a bit in the time since then. Compare the King James Bible with the original version of Beowulf, one of the earliest works of Old English, and you will see even greater changes in the language. Old English is so different from Modern English that Beowulf, itself written in English, has had to be translated into Modern English. Here's a page comparing the original version of Beowulf with translations into Modern English: http://www.nvcc.edu/home/vpoulakis/Translation/beowulf1.htm. Looking at some of it, I think I would have an easier time reading Korean than Old English, and I definitely find it easier to read French and German, despite being very rusty in both those languages.
Biblical literalists may not be able to deny that human languages have changed. That is just too asinine for anyone with some knowledge of the history of language to assert. Perhaps the most reasonable response that is compatible with Biblical literalism is that after God gave people new languages at the Tower of Babel, their new languages began to evolve, eventually leading to the languages that are more commonly spoken in the world today. But to accept this is to accept that linguistic evolution can account for differences in language without any divine intervention. It is to accept that the Tower of Babel story, even if taken to be true, is not needed to account for the fact that different groups of people speak different languages. And this is enough to plant the suggestion that the Tower of Babel story is just a myth made up by people to explain something whose origins they were still ignorant about. Since the most reasonable response a Biblical literalist can take casts doubt on the literal truth of the Bible, let's look at some less reasonable responses.
One less reasonable response would be that God keeps changing human languages, as he did at the Tower of Babel, perhaps even for the same reasons. Perhaps we keep getting closer to heaven with our skyscrapers, airplanes, and space ships, and to prevent further technological progress, God keeps changing the languages of people. If this were going on, we should expect to find a different pattern of language change than we actually do find. New languages do not just suddenly replace old languages. Languages change gradually. Over enough centuries, Old English has changed into Modern English. Old English is unrecognizable as modern English, yet at no point in the transition was there a sudden jump from Old English to Modern English. It was gradual changes all the way. Perhaps the most significant change to the English language was when it got an infusion from French by the Norman invaders of Britain. One of the significant differences between Modern English and Old English is that Modern English ("I'll stop the world and melt with you") has many more words of French origin in it. Despite being more sudden than other changes to the language, this was not the divine creation of a new language. It was just a blending of two pre-existing languages, a change that is analogous to biological sexual reproduction.
More reasonable than this response is to admit that language does change gradually over time but to deny that this change is evolutionary. If you don't already agree that linguistic evolution accounts for the different human languages, this is probably where you are. You might agree that divine intelligent design is not needed to account for language but only because language is a human artifact whose changes can be explained by the intelligent design of humans. You may point out the existence of artificial human languages, such as Esperanto, and you may point out that some languages, such as Cherokee and Korean, use an alphabet designed by a single man. You may also point out that each word in each language was the creation of a human mind, that the rules of grammar are the creations of human minds, that the alphabets and pictograms used to write languages are all the products of human minds. This is all true. Nevertheless, natural human languages are the product of evolution.
There may be a single person who invented Esperanto, but there is no single person who invented English, French, German, Swedish, Korean, Chinese, Greek, Latin, etc. Each of these languages gradually evolved over time, and except for Latin, which is a dead language, these languages are still evolving. As I established already, Old English became Modern English through gradual changes. Gradual changes happen frequently. If you isolate different speakers of the same language, the same language will, given enough time, gradually change in different ways among each group. Throughout most of history, there were no global communication systems, and geographical isolation was enough to isolate speakers of the same language. Given enough time, people whose ancestors spoke the same language would find that they no longer spoke the same language as each other. We can see the same process at an incomplete stage when comparing British and American English. British and American speakers can usually understand each other, but they have different vocabulary for some things. For example, Americans describe the kind of changes I am talking about by referring to the game Telephone, and British people, according to Richard Dawkins, call the same game Chinese Whispers. British people take lifts to their flats; Americans take elevators to their apartments. Gradual changes to the same language among isolated groups of speakers accounts for why languages can be grouped into families. For example, English, German, and Swedish are all Germanic languages. French, Italian, and Spanish are all Romance languages. The Germanic languages, Romance languages, Greek, and Sanskrit all belong to the larger family known as Indo-European languages. Linguists have been able to use similarities between different languages to trace the histories and relations of different languages. Geneticists have done the same thing with DNA to trace the evolutionary history and relations of different species.
Another factor that affects language development is cross-pollination between languages. When groups of people speaking different languages come together, their languages begin to borrow from each other. Modern English, as I mentioned, largely arose from the cross-pollination between Old English and French. English has also borrowed words from other languages, including Native American languages (pecan, raccoon, skunk), Irish (bog, shamrock, keening), Japanese (manga, origami, tycoon), just to give a few examples. Many more loanwords in English can be found here. I have also noticed that contemporary South Koreans are borrowing many words from English, such as computer, handphone (for cellphone), and okay. With today's global communications, this kind of thing is going to happen more often. The isolation of the past caused lots of divergence of languages, but fast transportation and communication, along with standardization of language in writing and audio recordings, are slowing down the divergence and instead causing more convergence of languages.
Although the changes to languages normally proceed from the minds of humans, these changes are gradual (as mutations are gradual), and whether a change becomes a lasting part of a language is due to natural selection, not to the choices of a single designer. No artificial language has been widely adopted. Esperanto is the most popular of artificial languages, but it has never caught on as a first language, and it is not that popular as a second language. Languages change as their speakers gradually make changes to them, and whether a change catches on depends on such things as the survival of the people who adopt the change, the popularity it finds among speakers, and how much it makes it into print. The sorts of changes that happen in languages include changing the pronunciation of a word, using an existing word in a new way, such as metaphorically, or using a noun as a verb or vice versa, combining words with each other or with suffixes or prefixes, or deliberately coining a new word. Some of these changes are deliberate, and some are due to ignorance about a language. For example, someone who doesn't know the past tense of an irregular verb might apply the rule for regular verbs to it, or someone who doesn't know that a word is already plural might apply the usual rule for making it plural, or someone might misunderstand the meaning of a word and use it in a wrong way. These are just a few examples. There are many ways in which languages can gradually change through mistakes made by speakers. Mistakes that catch on can, like mutations, become a new part of the language.
Given that language changes through gradual changes and the survival of the changes depends on external factors, we can see that languages evolve in a manner analogous to how biological evolution works. Languages mutate, whether by mistake or by conscious decision, and natural selection determines whether the mutations catch on. Over enough time, one language changes into something unrecognizable to its original speakers, and given isolation between different speakers of the same language, it can evolve into different languages that are related to each other. Languages that come into contact with each other can also cross-pollinate, analogous to sexual reproduction. Whether or not you want to call it evolution, and I think you should, it is clear that languages gradually change over time, and this is all that is required to account for the existence of different languages. The Tower of Babel story is not needed to explain why people from different parts of the world speak different languages. People around the world have come up with myths to explain various things. For example, American Indians have told a creation story about how the Great Spirit baked man out of clay, in which white people got baked too little, black people got baked too much, and the American Indians got baked just right. This story accounts for racial differences better explained by biological evolution. Likewise, the Tower of Babel story accounts for differences better explained by linguistic evolution. In all probability, the story of God changing people's languages at the Tower of Babel never happened. It was just a myth people made up to explain something they didn't have a more scientific explanation for. The same can be said for the creation stories that proliferate around the world. The two creation stories told in Genesis (P: Seven Days; J: Adam and Eve) are by no means the only creation stories people around the world have told. There are many creation stories, commonly differing in many details. There are so many, because so many people have wondered about the origins of the world, and for a long time, no one really knew what happened. So they made up stories. It is likely that the people who made up the Tower of Babel story to explain one mystery also made up other stories to explain other mysteries. It is likely that they were just as ignorant about the origin of the world as they were about the origin of different languages.
Even if you accept linguistic evolution but not biological evolution, you should understand that it discredits the Tower of Babel story just as much as biological evolution discredits the Adam and Eve story. If you have been concerned that biological evolution threatens to discredit the truth of the Bible, you should be just as concerned that linguistic evolution does the same thing. After all, if the Tower of Babel story isn't true, then the Bible can't be taken literally in every detail. Also, linguistic evolution and biological evolution work in similar ways. If linguistic evolution can account for different languages, then maybe it's not such a crazy idea that biological evolution can account for different species. And maybe the Tower of Babel story is not the only origin myth told in Genesis.